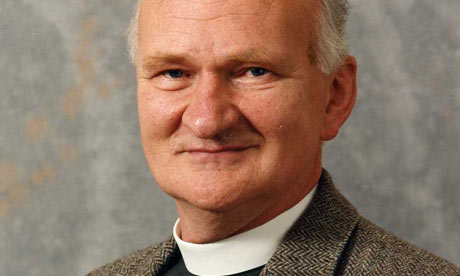 While doing some routine googling, I come across tributes to Maxwell Craig. Maxwell was Chair of Sharing of Faiths in Glasgow when I became involved in inter faith work there, aged 19. The last time I saw or heard anything of him was on a TV news bulletin at the time of the Dunblane shootings (1996), speaking on behalf of the Cathedral community in that smallest of Scottish cities, touched by an incomprehensible act of utter wickedness. I'd left Glasgow and its environs almost ten years before - but I remember thinking at the time that if anyone were to appear in public and say something meaningful, intelligent and comforting from a religious perspective about what had happened in Dunblane, it would be Maxwell Craig.
Ian Mellin, one of the friends who joined in the Sharing of Faiths activities (himself dead some 30 years now) dubbed Maxwell Craig, "Bampot Maxie". That name stuck and it's how many of the younger people who knew him in Glasgow referred to him. if that sounds insulting, believe me it wasn't. Yes, a "Bampot" is a headbanger, but ... Maxwell Craig was so full on, so front-and-centre of the whole inter faith "movement" (if there's any such thing, now or then) it was as if he was the front man, the virtuoso in the band, the one who could always be relied upon to step forward. We mimicked his distinctive way of speaking too (don't all clergymen have a distinctive way of speaking?). The tic we picked up on was how he would emphasise the last word or syllable of a key sentence by pausing, then leaning slightly forward, tapping his foot as the last bit came out, usually accompanied by lightly but firmly slapping a rolled-up programme or sheet of notes in his right hand into the open palm of his left. But there was no disrespect on our part; anything but, even from a bunch of us hardly out of our teens. If you find that hard to grasp, faithful reader, then all I can say is–that's Glasgow for you!

I recall vividly an occasion on which I saw Maxwell's tolerance – even indulgence – of our youthful capers. It was at the opening ceremony of the annual "Presentation of Faiths", held that summer in the splendid (if rather inaccessible) setting of the City Chambers in George Square. In his opening speech, Maxwell drew on an analogy which had just become popular at the time: that the bumble bee, according to the laws of aerodynamics, shouldn't be able to fly - but that it could, because it knew nothing of the laws of aerodynamics. From his vantage point on the stage, I could see that Maxwell could see Big D mimicking the flight of the bumble bee which suddenly snaps to the command of the laws of aerodynamics and plunges from the sky in ever-decreasing circles, with little muted buzzing noises, sounding increasingly desperate, then resigned, then ... er, dead. Big D thought himself concealed by the display boards of the exhibition, hos performance just for the entertainment of the handful standing near him. But from my position, looking over his shoulder toward the stage, I could see how his performance had grabbed the attention of Maxwell Craig, as the next speaker took their turn. But nothing was made of the bumble bee performance and when Maxwell took the assembled dignitaries on a brief tour of the exhibition, he included Big D in his introductions as warmly as anyone else.
As an example of how he reacted to something that wasn't just youthful high spirits and the typically Scots working class puncturing of authority (which he surely understood and played along with, rather than opposed), I recall another occasion from that same event–the same day or a day or two later. We were delighted to have been invited to take our annual public event from the McClellan Galleries in Sauchiehall Street to the City Chambers. It was a sign of recognition and value from Glasgow City Council (and from the Lord Provost in particular). The down side, however, was that it took away the opportunity for yer punter to walk in off the streets and discover the Presentation of Faiths for themselves. This is just what I had done, just a few years before. To make up for us sitting in splendid isolation in the city chambers, at each lunchtime a small number of us went down into George Square below at noon, representing each of the faith communities involved, to read something appropriate and scriptural through a megaphone to the crowds who would pass through the square at lunchtime. After Maxwell gave a brief introduction, he handed the megaphone to one of the participants, who took a good few minutes to chant a passage in the original language. When he ended the recitation then said, "And now for the English translation," Maxwell stepped over and snatched the horn from him, handing it to the next in line. He believed in us all getting a fair crack of the whip.

As a young, and newly enrolled Bahá'í (I'd only joined the Glasgow Bahá'í community a couple of months before I was asked to represent them on the Sharing of Faiths committee), an enthusiastic promoter of a faith which itself eschews the institution of clergy, ministry or priesthood in any of its forms, it may have been more troubling than I realised at the time to encounter a man who so consummately filled this venerable office with his towering influence for good. As I settled into my newly adopted belief structure, it was a lazy option to think that, because we didn't have them, they were of no worth or importance anywhere. Of course that's not the true Bahá'í position, as I came to understand later, when I became more familiar with the writings of Bahá'u'lláh and passages such as this:
Respect ye the divines and learned amongst you, they whose conduct accords with their professions, who transgress not the bounds which God hath fixed, whose judgments are in conformity with His behests as revealed in His Book. Know ye that they are the lamps of guidance unto them that are in the heavens and on the earth. They who disregard and neglect the divines and learned that live amongst them–these have truly changed the favour with which God hath favoured them.
I have Maxwell Craig to thank for helping me learn that lesson, as I saw in him a man whose actions spoke louder than words. I'd certainly never spent that much time in the company of any clergyman before. When I was a kid, my brother and I used to be sent scurrying into our bedroom when the local minister called round on a pastoral visit. Maxwell Craig was the first minister from whom I got a sense of what a clergyman could–indeed

should

–be. In many respects, he's remained my model of the good minister of the Kirk. Back then, he was someone I found awe-inspiring but not unapproachable. The older I get, the clearer it becomes to me that for a few years I had the privilege and honour of standing with someone who can now be seen as a great man in the life of my city and my country.



I didn't actually know that Maxwell had died until I stumbled across these tributes today. He wasn't all that old after all, at 77. I'm sad just now, feeling a real physical knot about this. I thought it right to share some important things about him with you, faithful reader.

Below is the text of the eulogy read at the Thanksgiving Service for Maxwell Craig's life and work, held on 7 October 2009 at the Church of the Holy Rude, Stirling.
Maxwell Craig was a big man in every sense–big in stature, big in personality, big in the impact he had on other people's lives, big in vision and intellect, big in compassion and generosity of spirit. No words of mine can adequately sum him up or do justice to his accomplishments. We have already heard movingly what he meant to his family. Each one of us here this morning has our own personal memories–vivid and precious–to cherish and recollect.
Maxwell was born on Christmas Day in 1931 in Halifax, West Yorkshire, the youngest of four children of a Scottish doctor who had moved south at a time when it was hard to get jobs in Scotland. He went to school at Bradford Grammar School and then Harrow; then on to Oriel College, Oxford to read classics. National Service for a couple of years mostly in Stirling and Berlin – with the Argylls, latterly commissioned as a 2

nd

Lieutenant. Two years in Sheffield with United Steel, four years in the fast stream of the civil service with the Ministry of Labour in London. And then the call to ministry–three years in Edinburgh at New College, a term in Germany at Tubingen, a subsequent year for an MTh in the United States at Princeton. His assistantship with Jack Orr at St John's Oxgangs in Edinburgh; seven years at Grahamston, Falkirk including the creation of a united church, one of Scotland's first ecumenical parishes; sixteen years at Wellington in the west end of Glasgow; two years at Bridge of Don, another ecumenical project; seven years as the first General Secretary of the new ecumenical body Action of Churches Together in Scotland, to which Alison has already referred. And then, following his retirement in 1998, a succession of significant locum ministries – St Andrew's, Jerusalem; Breich Valley in West Lothian; St Andrew's, Rome; then four years at the priority area charge of St Mark's, Raploch, here in Stirling.
These are some of the bare facts but of course there is so much more to tell, above all of course his family who meant so much to him–Janet whom he met at Oxford and married in 1957. They came from remarkably similar backgrounds (Janet's father was a Scottish doctor who had settled in Manchester); they shared so many interests, complemented each other so well and, although certainly both strong and independent personalities, like many of you, I'm sure, I've come, as it were, to think of them in a single breath! And the family–in and from whom Maxwell took and derived such pride and joy–Margaret, Sarah, Lucy and Rob, their spouses, the grandchildren. It's been said that to discern our real concerns and priorities we should look at what our children have done with their lives. The Craig family stand out in this respect–medicine, law, wind energy, health service, a commitment to serving those on the margins, an inherited love of the hills, the continuing regular family gatherings at Christmas and on other special occasions, the recollection of the ups and downs of family holidays in the north-west, a host of stories–memorable and often highly amusing.

There was something of a paradox about Maxwell. He could perhaps be seen as a traditionally orthodox, unfailingly gracious, and respectable, even "establishment" figure–public school and Oxford, Argylls officer, 121 committee convener, Queen's Chaplain. But alongside that there was the radical dimension – the strong commitment to social justice and to peace-making. And that stemmed from his Christian faith and from his compelling desire to share in the building of God's kingdom. For Maxwell faith touched every aspect of life: one cannot separate religion from the world of politics. For him the life of faith was about encounter and engagement – about valuing human relationships, pursuing social concerns and trusting in God's transforming grace. Janet suggested to me that his views were shaped by his early experience among poor families in Halifax where he earned pocket money by going round to collect fees due to his father before the National Health Service was in place. Out of these beginnings developed Maxwell the campaigner and activist on so many fronts over the years. In both Falkirk and Glasgow his involvement in children's panel and Samaritans. The contribution he made in Glasgow to Stella Reekie's work, the development of the International Flat and the Sharing of Faiths project, whose legacy continues to this day. His very effective and high-profile term as convener of the Church and Nation committee, to whose work he gave a real cutting-edge in the heady days of anti-Thatcherism–the miners' strike and a visit to a Fife colliery to share in the early-morning shift; the march from Gartcosh to London when Ravenscraig first came under threat; his contribution to the Claim of Right that laid the foundation for the Scottish Constitutional Convention and the creation of the Scottish Parliament. Frequent visits to Faslane. His long-standing commitment to housing issues fulfilled most recently in his much appreciated term as chair of Scottish Churches Housing Action. Then his work as a director of the Scottish Refugee Council, membership of the visiting committee for Polmont Young Offenders Institution. The catalogue goes on and on; and his latest campaign, as so often on the edge of controversy, and characteristically self-effacing, arguing in the public arena that, when health and social services resources are limited, funds should be diverted from the care of the elderly to other more pressing priorities with longer-term benefits.
Many of us will remember Maxwell the leader speaking out on public platforms and through the media on the issues of the day, always from the standpoint of faith. He was a powerful, passionate and persuasive speaker–and his prayers were memorable: they truly came from the heart; sometimes he almost seemed to be pleading with God. In his years at Wellington in particular–but in a sense this is the story of his life–his ministry is valued for the way in which he opened up fresh perspectives and new horizons in the congregation's life–through the guest preachers who came, the inter-faith and ecumenical themes he introduced and developed, the early Easter morning service at the top of Dumgoyne, and other projects. Sometimes people's feathers were a little ruffled–for instance, there was the "vote Labour" poster in the manse window! But he was also a sensitive and capable pastor; he was a good listener and had a great capacity for getting alongside people, relating to them, caring for them, giving them his time and full attention; he had the knack of encouraging and empowering people and making wise choices as to leaders of congregational activities; and with his breadth of vision, intellectual ability and charm he was able to hold together in unity people with a diversity of opinions.
Maxwell's membership of the Iona Community was important to him and underpinned so many of his concerns. He was impressed when George MacLeod came to speak at Oxford and, with Janet, was a member of the Iona Society there and attended St Columba's church where a Community member, Raymond Bailey was minister. The Iona connection continued when Maxwell and Janet moved to live in London and worshipped at the Presbyterian church where another Community member Ian Renton was minister. He joined the Community in 1964 and served it in many ways over the years. He valued especially the monthly meetings of the local Family Group to which Janet and he belonged–the worship, the exploring of issues, the deep sharing of concerns.
I suspect that Maxwell was not always easy to live with, but he was almost impossible not to love. There was that expansive smile, and an immense grace about him – a deep joy and contentment. He was a lively person it was always good to be with – there was much laughter, and inevitably so much to talk about. He was warm, charming, and invariably courteous. There could at times be a degree of stubbornness, a dogged persistence in pursuit of the principles and objectives to which he was committed, but he consistently evoked respect and affection. His opponents were never regarded nor thought of themselves as enemies. Once he'd made his mind up there was a strength of purpose and single-minded determination, which sometimes made working with him a little hard. But he was always positive: indeed there was, as we've heard, almost an element of the Utopian romantic about him – what was described to me as his "incurable optimism" – but usually Janet and the rest of the family kept him "earthed".
Maxwell's was truly a rounded life. Most of us know of his passion for walking and climbing, his sense of achievement in completing all the Munros. He was interested in sport – frequently attending Brockville when they lived in Falkirk, usually after half-time when you got in free; and for many years he was a regular at Murrayfield and still took a keen interest in Scotland's fortunes on the rugby field. And music was always an important part of his life; music – RSNO concerts, opera and a surprising ability to remember and sing the songs of the shows from the 50s and 60s. In his retirement all these interests continued and developed – holidays with friends and family in Tuscany, Crete and elsewhere; the enjoyment he got in playing golf just across the road from his house; the monthly expeditions with a group of men friends, the "yo-yos" going up and down hills a little less demanding than the ones he'd climbed when he was Munro-bagging; regular bridge to which he brought a measured and accomplished deliberation; and of course singing with the Stirling City Choir of which he was currently chairman.
Somehow the circumstances, so sudden and unexpected, of his death sum up Maxwell's life – alongside friends at a sing-along Messiah, at the end of a week spent on Iona as member in residence at the Community's MacLeod Centre, where his helpful, cheerful presence had been so much appreciated that the warden's parting words were–"You must come again next year

for two weeks

, and make sure you bring Janet with you ..."
But it is not to be. At a time like this we are reminded once more of the fragility of life and of our own mortality. But above all we celebrate a faithful, faith-filled and well-lived life that has touched and enriched

our

lives. We rejoice that Maxwell has passed through the mystery of death into the eternal joy of God's nearer presence. And we give thanks to God.
Amen