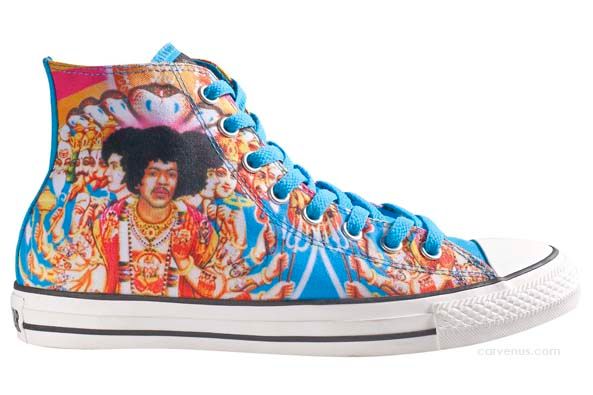 Shortly before midnight I receive an email from Manjula Sood (Chair of Leicester Council of Faiths) forwarding a message from British Hindu Voice - an organisation new to me. Their message is entitled "Insult to Hindu Faith - Hindu god images on shoes". At first sight this is utterly baffling - but after a moment's investigation, all becomes clear (if weirdly so).
18 September 2010 marks the 40th anniversary of the death of Jimi Hendrix, found dead in his flat at 22 Lansdowne Terrace, London. This anniversary is being commemorated in a variety of ways. Converse has produced a range of three special editions of its All Star training shoe, celebrating Hendrix in different ways. Two of them reproduce artwork from classic Hendrix albums ("Electric Ladyland and "Axis Bold as Love" respectively) while the other shows a detail from an iconic bandsman's jacket that Hendrix wore at some of his most memorable live performances.
Converse has made other shoes in honour of rock stars past and present, including the Grateful Dead, Janis Joplin, and The Who. None of those, however, has the associations that comes with the cover artwork of the second album by the Jimi Hendrix Experience: "Axis Bold as Love" (released in the UK, Dec 1967).
According to Wikipedia, Track records art department had independently chosen to follow the contemporary fad for all things Indian to provide the album's cover, which has a photographed copy of a mass produced religious poster of the Hindu devotional painting known as Viraat Purushan-Vishnuroopam with a small, superimposed painting of the three members of the Jimi Hendrix Experience themselves by Roger Law (from a photo portrait by Karl Ferris) blended in.
It was 1967 after all; there was a fad for all things Indian; it was all part of the psychedelic mystical mix of the time. In more than four decades that have passed, Hendrix has, of course become one of the greatest icons of that whole period, adaptable to many diverse purposes - and the cover artwork from "Axis Bold as Love" has been one of the most popular images associated not only with Hendrix himself but with that whole cultural milieu. In poster form, it has adorned innumerable bedrooms, clubs and record shops for over 40 years. I hope that no one is going to go all retroactive and think any good could come from protesting about the album artwork at this remove! From the forwarded email, I don't get the impression that the correspondent from British Hindu Voice knows either the pop historical context or the cultural status of Jimi Hendrix (or, for that matter, the economic clout of Converse). But the least that can be said is that times have changed since 1967 and I think it only proper that something should be said about the reproduction of these images from this popular Hindu devotional painting - on a shoe, of all things.